What happens to a vampire after he finally dies? Heaven? Hell? Nope, purgatory in a West Hollywood warehouse. Go figure.
Cold in California playfully proposes that even the worst of the supernatural world gets one more chance at redemption. Twice-baked vampire, Gabriel Strickland, learns this when he's whisked from his final demise and into a holding tank of sorts tucked secretly in West Hollywood. Sixty creatures, including other dead vampires, pixies, a legendary Navaho stick man and bothersome leprechauns, struggle together to earn brownie points (against their natures) and wait out possible centuries of purgatory. Gabriel receives dubious advice from Crudo Cushman, a controlling troll who runs the place, but there are always bugs in the pudding and he faces them all. Enter, the beautiful Dori Gallagher, who not only knocks Gabriel off his feet, but also an evil warlock who has designs on her.
His life after double death is all about balance, but when menacing forces gather against Gabriel and everything he's come to respect, it's a fiery clash of supernatural verses supernatural in one heroic effort to save his new reality.
Cold in California is a completely original and very interesting take on the world of vampires and (for the lucky ones) their lives after they die. (Again!) This was such a fun and entertaining read for me! The Characters are well developed. They all have their own unique and quirky personalities. The interaction between them had me laughing and I truly enjoyed getting to know each of them.
So, what happens to a vampire when they die? As much as I love to read vampire books, I've never really put much thought into it. Well, none of my beloved hero's have ever been "twice baked" before ;)
Gabriel Strickland is hungry for nourishment and for companionship. He's on an impromptu "date" at a Cubs baseball game when the unimaginable happens. A freak accident. And just like that, Gabriel is dead! He wakes up in West Hollywood, in a place of limbo. A holding tank. He has been given a second chance. A chance for redemption. A chance to make up for his past and to choose between Heaven or Hell. He could be here for centuries waiting for his final judgement. But he isn't alone. There are others who have also been chosen to get a second chance. Not just vampires. Many other legendary and mythical creatures. All that they do while here will count for them or against them.
Since he has time to kill, Gabriel decides to get a job. He meets Dori Gallagher at her place of employment, The City of Angels Employment Agency. They are instantly drawn to one another.
As with any great romance, there are difficulties along the way! There are lots of twists and turns that will keep a spark in your interest. I was absolutely hooked from the beginning! It's so different from anything else I've read!! I highly recommend this book to all who are looking for another great vampire series to read! You will not be disappointed! This is a wonderful fist book in what I believe is a great new series!!
Can you tell us a little about yourself?
Well, at some point in my life I was a wife, a mother, an artist, a marketing professional, a chef and a writer. Currently I'm a grandmother, an author and an Author Success Coach. I live in beautiful Pittsburgh PA after a temporary five-year crazy stint in Los Angeles California (did you know they have earthquakes there!?). It was my time in wild and strange Southern California that brought Cold in California and Gabriel to life.
Do you recall how your interest in writing originated?
I've always written. Even as a child I remember writing radio commercials for products I invented in my head. When I started my first of many careers in the advertising, marketing and public relations industry, writing became a way of life and at one point I owned a trade publication for the advertising industry in the tri-state area. I've written for radio, television, brochures, industry publications and client media packets. I've written menus and promotional plans for the various facilities I worked for as a chef and through it all, I wrote short stories and novel length pieces. I've even written fanfiction. Where my interest in writing originated I really can't pinpoint, it seems it was just always there.
What surprised you the most about the writing/publishing process?
Oh let's see … everything. Of course, since I can't do anything normal or the easy way, I had to step into the publishing industry arena just as it was dissolving, shifting and altering into something no one has a clear idea about. Getting published is a trying experience at best, and a trying experience at worst. It's not for the faint of heart.
Rejections abound and finding ways to empower the author trying to find success is something I discovered I'm very good at. It's why I became an Author Success Coach. As it turns out, these days there are a hundred ways to get published – it's the getting-visible-and-getting-the-book-to-sell part that's the conundrum. I constantly offer nuggets of marketing solutions in my blog, Writaholic, and my book Finding Author Success: Discovering and Uncovering the Marketing Power Within Your Manuscript is being released in November of 2011.
How do you develop your plots and characters? Do you use any set formula?
Nope, no formula but I definitely do plot carefully. In fact, I can't start a novel until I know exactly how it ends. (Must be my OCD, sigh.) The characters come fully formed with warts and personality quirks and they don't hesitate for one moment to tell me what they think of what I'm writing. As far as a plot, I find that if I have a powerful element that defines the book, I'm halfway home. Cold in California is about redemption and the difficulties of gaining it when it's totally against your nature to do so. Once I know the defining element and the characters involved, that's when the fun begins.
What, in your opinion, are the most important elements of good writing?
The basics! Well structured plots, well written sentences, well developed characters and the all-important entertainment factor. Everything in the book must drive the story and every character must play a key roll. There should be no fruitless fluff at all. Oh, and the all time most important element of good writing … really sharp, tight editing.
Can you share a little of your current work with us?
At the moment I'm doing the final approvals for the non-fiction, Finding Author Success. I'm writing the second book of the Twice Baked Vampire Series to follow Cold in California entitled Monkey Jump, planned for February 2012 release. And I'm in the process of plotting a new paranormal YA series, the first book, The Orphanage, is scheduled for release in late 2012. My publisher is Michelle Halket at ireadiwrite Publishing and I absolutely love her!
In Twitter Fashion use140 characters or less, sum up Cold in California for us.
What happens to a vampire after he finally dies? Heaven? Hell? Nope, purgatory in a West Hollywood warehouse. Go figure. Cold in California.
How did you come up with a story that was such a whirl wind of events?
Well, I just figured that if I was breaking every mythological rule about vampires, I was free to do it with any other supernatural character. If Gabriel, a vampire, could meet his second and final death only discover that he still had to stick around because he was worthy of one more shot at the pearly gates, why shouldn't other supernatural creatures get the same chance? Trust me, you put twice-baked vampires, dead werewolves, trolls, pixies, shape-shifters, leprechauns and an ancient Native American Stick Man together in one place, and plot happens! Toss in a villain, a beautiful woman and a ton of unsavory agendas and you've got Cold in California.
How long did it take you to write it, and did you have any writer's block along the way?
The entire plot and all the characters came to me one afternoon while I was in West Hollywood and I just had to run home and get it all down. The original version took me all of 30 days to write. I wasn't on a time crunch or doing a daily word count or anything, I was just so taken by the story I couldn't stop writing! The rewrite, editing and tightening took another few months. I never get writer's block. If I came up against a wall for plot or character, I just slipped over to a different project for a while. I always have several projects on the burners. With Gabriel and the Cold in California crew, it was always easy to come back to clarity. I especially loved putting a critical eye to the rhythm of the writing and making sure there was nothing sidetracking the story.
Will we be seeing a following book to this series?
You'll be seeing four more books in Cold in California's Twice-Baked Vampire Series. Earlier I mentioned Monkey Jump, scheduled for February 2012 release. The third book, Amsterdamned, is planned for a December 2012 release. The final two books, titles to be determined, are planned for 2013 release. I'm also working quietly on a background book for the Twice-Baked Vampire Series entitled The Warehouse Speaks. That one will tell all about the characters living in the secret West Hollywood purgatory warehouse, the history of other supernatural purgatory warehouse around the world (a few might even be in your own neighborhood!) and a little about the mystical warehouse system itself.
How did you come up with the character Nathan Cook?
Well, shiver … handsome black-magic warlock Nathan Cook came to me as the absolute perfect villain. He's beautiful and bad at the same time, attractive as the Devil and just as evil. There was one thing about Nathan that I searched for from the moment he formed in my head. See, there had to be something about him that would make me secretly like him and boy, was there ever. Aside from his movie star looks and unimaginable witchcraft abilities, poor Nathan had his fears and insecurities – he had an ego that made him forget to notice how he was screwing up and he was jus so gullible! God I loved writing Nathan Cook!
I always must ask, if you could pick one actor to portray Gabriel Strickland on the big screen who would it be and why?
You know, it's so funny but as I wrote Gabriel I had no actor in mind at all. Then one day my roommate and I had popped in DVDs from the final season of "Lost" and out of the blue, roommie announced, "Huh, look at that! Josh Holloway IS Gabriel, isn't he?" Damned if he isn't, LOL!
Was there anything you find particularly challenging when writing this book?
Nope, except for finding the time to write the next book in the series, LOL. Who know life would get so crazy after my Twice-Backed Vampire come out?
What were your feelings when you first saw the cover of your finished book?
I'm one of those really blessed authors! See, my roommate is a graphic designer and artist and she had designed the Cold in California cover long before I connected with my publisher. My publisher loved what we had and we now get to create covers for the whole series. Here's a sneak peek of the cover art for Monkey Jump.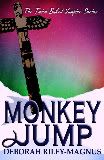 Character Interview: (Gabriel)
Where do you live?
I used to live anywhere I wanted to live … in the dark … alone like I like it. But these
days I live in West Hollywood … in the daylight … because the powers that be decided I should.
How old are you?
Seriously? Um … around 180.
Do you have a nickname you like to go by?
Nope. Hate to be called Gabe. My name is Gabriel. Use it or talk to someone else.
How would you describe your looks?
What? I guess I look like any other guy.
In Twitter Fashion use 140 characters or less, sum your personal ad for us. (If you were to have one)
Frustrated, confused, twice-baked Vampire with a possible place inside the pearly gates seeks normal woman to love. Period. Does that work?
What do you do for a living?
Since I have to work and can do it in the daylight these days, I'm a lighting man for independent filmmaker Joshua Pettimore. He thinks I'd be a good actor. I don't think it's such a good idea.
How do you deal with conflict and change?
Badly. Next question.
What are your goals or motivation?
That's a good question. Nobody ever asks a vampire that question. Now that I'm double-dead and a pseudo-vamp trying to earn a shot at paradise, I guess my goals have shifted drastically from survival and pretending a normalcy, to actually trying to play by the rules. It's not easy. I'm not used to playing by the rules, you know.
What are your hobbies and interests?
No time for hobbies and interests. Seriously, even when I had nothing but time, I had no time for hobbies and interests. But I do love baseball.
What is your most embarrassing memory?
Being turned. Or maybe it was the first time I bit a woman during a rather intimate moment. She slapped me, hard … in the nose. Yeah, I could have finished her off for good but man, it was an embarrassing moment.
What was your first date like?
As a human – awkward, uncomfortable, terrifying. As a vampire – awkward, uncomfortable, terrifying. As a twice-baked vampire? Um, pretty damn good. Oh it was still awkward, uncomfortable and terrifying but it was really pretty damn good.
How did you meet the person of your dreams?
She worked for the employment agency that got me the lighting job with Petti.
Describe yourself--what is your best quality? What is your worst?
I'm a loner … it's my best quality and my worst quality.
What did you ask for on your last birthday? What did you get?
I can't even remember my actual birthday, it was sometime in 1910s. Anything I ask for was easily ignored and I probably got an apple or ear of corn right from the farm. I don't death-day than my birthday. I don't ask for stuff. The depression taught me not to bother. like to think about my vamp birthday. And the day I became twice-baked is more like it.
What is the one thing you wish other people knew about you?
I don't bite.
What is your biggest secret--the one thing you don't want ANYBODY to know?
I don't bite.
What are you most afraid of?
Not making the grade. For a vampire who spent almost eighty years thinking there was no heaven to suddenly realize that not only is there a heaven, but I have a chance to get there … well getting turned away and facing Lucifer is a pretty scary thing. Maybe because I feel like for all my bloodsucking years I was Lucifer. I'll admit, I'm kinda afraid of how this will all turn out.
What do you want more than anything?
Peace. Normalcy. Love. Nothing special. Pretty much what everybody else wants.
Character Guest Post:
Life Looks Real Different this Time
Okay. Introducing myself. My name's Gabriel Strickland. See, I was alive, then dead, then double-dead. They call me a twice-baked vampire. From everything I knew about vampires, I was supposed to be toast after the second death. Fini. Gonzo. No more. No nothin'.
Not so.
As it turns out, some of us get one more chance, a final conscious effort to determine whether we're going up, or going down. One last shot at heaven or hell. Neat, huh?
But here's the catch (and of course, there's always a catch), I have to make these last ditch efforts for salvation while living out my double-dead life with a mess of other dead supernaturals. I live in a holding tank of sorts, a warehouse tucked secretly in West Hollywood. Think about it. Sixty departed supernatural creatures trying to live together, get each other through the challenges, tolerate each other and look like normal people. It's grueling, I tell you!
Okay, I'm not such a social guy and I've always been a loner but it's a roof over my head. I do the best I can. This should be simple, right? Wrong.
Being twice-baked means I get to keep some of my vampire powers, and I get a few blessings in the mix, if that's what you want to call having to get a job and walk around in the daylight like regular people.
Deborah Riley-Magnus, the author of the book I'm in … I guess you can call her my maker … is nice enough and let's me rant when I need to. She seems to think I'm less cooperative when stressed. She'd probably right. And since she's trying to write the future novels in the Twice-Baked Vampire Series, maybe it's best if I cooperate.
I'd like to keep going, keep loving my new girl, Dori, and managing my way through the tough choices. Needless to say … life looks real different this time.
Deborah Riley-Magnus, Busy Lady!
Hi everyone! I'm Deborah Riley-Magnus, an author and an Author Success Coach. I have a twenty-seven year professional background in marketing, advertising and public relations as a writer for print, television and radio. As an Author Success Coach I focus exclusively on publicity, marketing and promotional solutions for authors.
I produces several pieces weekly for various websites including my author website and a writing/author support website called Whispers of the Muse. I also write an author industry blog and teach online and live workshops as an Author Success Coach.
I was so excited when Cold in California, book one of The Twice-Baked Vampire Series was released in July, 2011. My non-fiction, Finding Author Success: Discovering and Uncovering the Marketing Power Within Your Manuscript is scheduled for release in November, 2011 … and in January of 2012, I'll be launching a new online publication called the Whispers of the Muse Literary Magazine.
I belong to several writing and professional organizations and am a member of the WriteSEX blog group as the marketing, promotions and publicity expert.
I'm a native of Pittsburgh, Pennsylvania, but have lived on both the east and west coast of the United States. I've driven across this great country several times. One could say I've seen the good, the bad, the crazy and the ugly. Perfect fodder for a writer!
For a good time, be sure to pop over and follow me on Facebook and Twitter.
Follow this author and her work! Here are her links!!
Cold in California website: http://www.coldincalifornia.com/
Cold in California FB page: http://www.facebook.com/Cold.in.California
Cold in California on twitter: @ColdnCalifornia
Deborah Riley-Magnus on twitter: @rileymagnus
The Vampire Explored Blog: http://vampireexplored.wordpress.com/
The Twice Baked Vampire Blog: http://thetwicebakedvampire.wordpress.com/
Cold in California Amazon Link: http://www.amazon.com/Cold-California-Twice-Baked-Vampire-ebook/dp/B0055EC7E8/
Cold in California Book Video: http://www.youtube.com/watch?v=jorKc0hSaoA
I blog - http://rileymagnus.wordpress.com/
I teach - http://theauthorsuccesscoach.com/
I fiction – http://coldincalifornia.com
I write - http://deborahriley-magnus.com/
I play - http://whispersofthemuse.org/
I tweet – http://twitter.com/rileymagnus
I facebook - http://www.facebook.com/deborah.rileymagnus
I should be sooo tired!
One very lucky person will win a signed e-book copy of Cold in California!
Just leave a comment for the author, Deborah Riley-Magnus below! Good luck!!