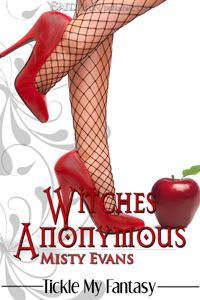 Can a bad witch go good in thirteen steps? Not if Lucifer has his way with her!
A Tickle My Fantasy story.
Amy Atwood is a witch. Not the harm-none kind…the Satan-worshipping, devil-made-me-do-it kind. But after catching Lucifer in a particularly wicked hex act with her goodie-two-shoes Wiccan sister, Amy does what every self-respecting witch would do. She pops a Dove chocolate in her mouth, ends her affair with the devil, and swears an oath never to use magic again.
She wants to be normal. Human. Even if it means no more fun—and she's looking for a nice, normal guy to complement her new lifestyle. And ice-cream-loving firefighter Adam Foster looks like perfect hero material.
Lucifer, however, isn't about to be nice about letting her go. Stalked by Satan, manipulated by the angel Gabriel—and surprised by Adam's true identity—Amy finds herself up to her black hat in trouble of Biblical proportions…
My Review
This was a quick, fun and sexy read! I was aware that it was a novella before I started reading it so I was not expecting a lot of history on the characters. Ms. Evans easily draws the reader in with her humor and sexy men in the story, albeit one of which is the devil. All the characters were unique and fun in their own ways. The more I read the more I found myself wanting more. I highly recommend this book to those that are looking for a light, quick and truly entertaining read!
My Rating: 5 Stars!!
Visit This Author:
website:
http://www.readmistyevans.com
Facebook:
http://www.facebook.com/pages/Misty-Evans-Author/18911840110102
Twitter:
http://www.twitter.com/readmistyevans
Goodreads:
http://www.goodreads.com/author/show/2162357.Misty_Evans
Yahoo! Group:
http://groups.yahoo.com/group/MistyEvansBookNews